Cutting Tweezers
Ideal-tek cutting tweezers have been designed to meet requirements for different applications. With a high precision cut and narrow working areas, the tweezers are available with angled blades, parallel blades, and predominantly angled blades. Perfect for cutting soft wires, copper, gold, silver, and magnetic wires.
Carbon steel (Material number 1.1221, Ck60, AISI 1060)
contains from 0,57-0,65 wt% carbon
magnetizable
will be hardened by heat treatment, max. hardness 57 HRC
poor resistance to corrosion
used where strength and/or hardness are of primary concern.
typical applications include tweezers and cutting tools for the electronic industry, watch-makers, jewelers applications.
| Catalog | Style | Material | OAL mm | A mm | B mm | Price | Unit | |
| --- | --- | --- | --- | --- | --- | --- | --- | --- |
| 14A.C | Style 14A | Carbon Steel | 115 | 2.3 | 11 | 65.00 | each | |
| Catalog | Style | Material | OAL mm | A mm | B mm | Price | Unit | |
| --- | --- | --- | --- | --- | --- | --- | --- | --- |
| 14AGW.C | Style 14AGW | Carbon Steel | 115 | 2.1 | 6 | 62.00 | each | |
| Catalog | Style | Material | OAL mm | A mm | B mm | Price | Unit | |
| --- | --- | --- | --- | --- | --- | --- | --- | --- |
| 15A.C | Style 15A | Carbon Steel | 120 | 4.25 | 12.00 | 62.00 | each | |
| Catalog | Style | Material | OAL mm | A mm | B mm | Price | Unit | |
| --- | --- | --- | --- | --- | --- | --- | --- | --- |
| 15AFW.C | Style 15AFW | Carbon Steel | 115 | 4.25 | 8 | 62.00 | each | |
Style 15AGHM
High precision cutting tweezers: cutting, Tungsten carbide insert, predominantly angled blades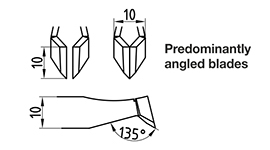 | Catalog | Style | Material | OAL mm | A mm | B mm | Price | Unit | |
| --- | --- | --- | --- | --- | --- | --- | --- | --- |
| 15AGHM.SA | Style 15AGHM | AntiAcid/AntiMag SS | 115 | 5 | 10 | 109.00 | each | |
| Catalog | Style | Material | OAL mm | A mm | B mm | Price | Unit | |
| --- | --- | --- | --- | --- | --- | --- | --- | --- |
| 15AGW.C | Style 15AGW | Carbon Steel | 115 | 4.75 | 10.00 | 62.00 | each | |
| Catalog | Style | Material | OAL mm | A mm | B mm | Price | Unit | |
| --- | --- | --- | --- | --- | --- | --- | --- | --- |
| 15AP.C | Style 15AP | Carbon Steel | 120 | 4.25 | 12 | 62.00 | each | |
| Catalog | Style | Material | OAL mm | A mm | B mm | Price | Unit | |
| --- | --- | --- | --- | --- | --- | --- | --- | --- |
| 15ARW.C | Style 15ARW | Carbon Steel | 115 | 4.5 | 6 | 62.00 | each | |
| Catalog | Style | Material | OAL mm | A mm | B mm | Price | Unit | |
| --- | --- | --- | --- | --- | --- | --- | --- | --- |
| 15ASW.C | Style 15ASW | Carbon Steel | 115 | 3.6 | 10 | 62.00 | each | |
| Catalog | Style | Material | OAL mm | A mm | B mm | Price | Unit | |
| --- | --- | --- | --- | --- | --- | --- | --- | --- |
| 152.S | Style 152 | Stainless Steel | 100 | 1.35 | 4.3 | 51.00 | each | |